These make mothers day happy times ;)
I feel bad that I have been advoiding my blog... latly I have been unmotovated to share.. and unmotovated to do anything... I think I really just need some sun..
So head on over to
Night Owl Crafting
and play along, I love reading about everyone else..., people can be fasinating ;)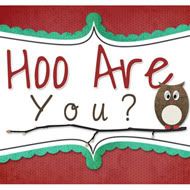 1. Are you a mom and if so how many kids do you have?
I am a mom. I have 4 kids, Justin, Brooklyn, Colton, and Carson.
2. List 3 qualities that you love about your mom!
Dependable, energetic and crafty ;)
3. What is your favorite thing your mother cooks?
she use to make me pigs in a blanket... my favorite childhood food for sure!
4. What do you love about being a mom?
Being the boss ;) jk I love watcching these kids turn into great people
5. What are your plans for Mother's day?
I plan on making the kids a HUGE swing set in the back yard, might sound like work to most people but im so excited I can hardly sleep ;)